I saw these bottles of Diet Coke on sale the other day. Greg is a Diet Coke addict so I knew he wouldn't mind me buying them. However, the real reason I bought them is because I thought it would be fun to photograph them!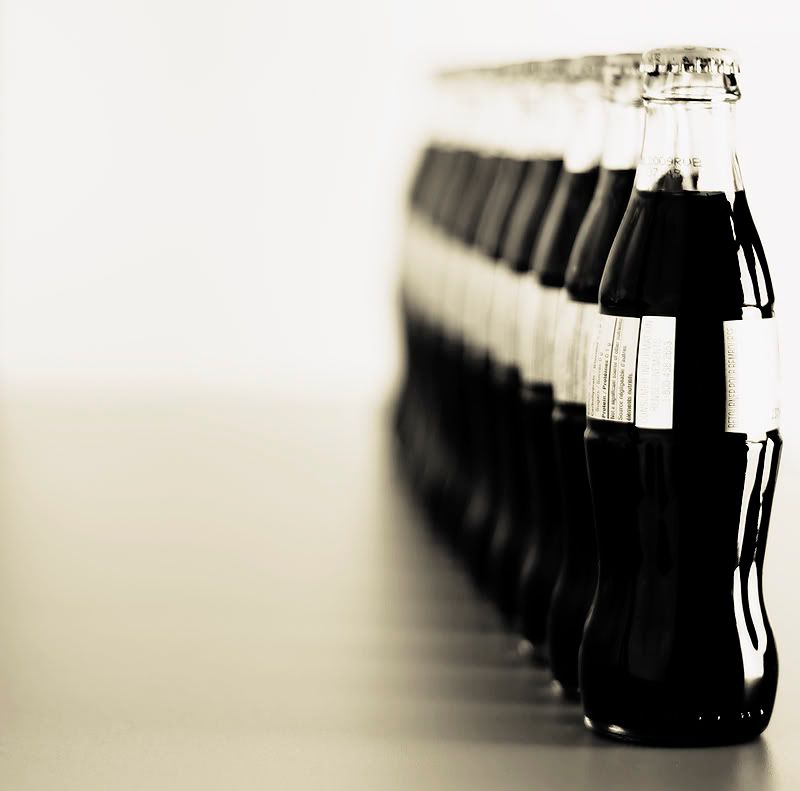 And since I've been tagged by Annie here is are 7 random facts about me (some of you may already know these things).

I regularly find 4-leaf clovers. I "sense" that they are there and when I look down, I can spot them from wherever I am.
I have 6 titanium screws in my face. I used to be very active in Tae Kwon Do and got kicked in the jaw during a sparring match one day and although nothing was broken, I ended up needing surgery. This was when I was 15.
I love cream of mushroom soup, but find that the mushrooms squeak when I eat them, so I strain them out before eating the soup.
I am a trained paramedic but never actually got the chance to work in the field due to a lot of red tape. Although I love my job as a photographer, when I see an ambulance racing down the road I get a little sad knowing that I'm not doing that.
I truly believe that the toilet paper should always go "over" and have to stop myself from flipping the roll when I see it going "under" at other peoples' houses!
For the past 15 years I've had this strange urge to move to Phoenix, Arizona, even though I've never been there and don't know a soul there. It's not likely to ever happen, but perhaps I'll visit there someday.
I love being a mom and consider myself to be extremely lucky to have two wonderful, healthy boys. That being said, I really wish my husband would agree to having another!